Uncovering opportunities for a better banking experience
Delivering 500+ pieces of advice based on seven design principles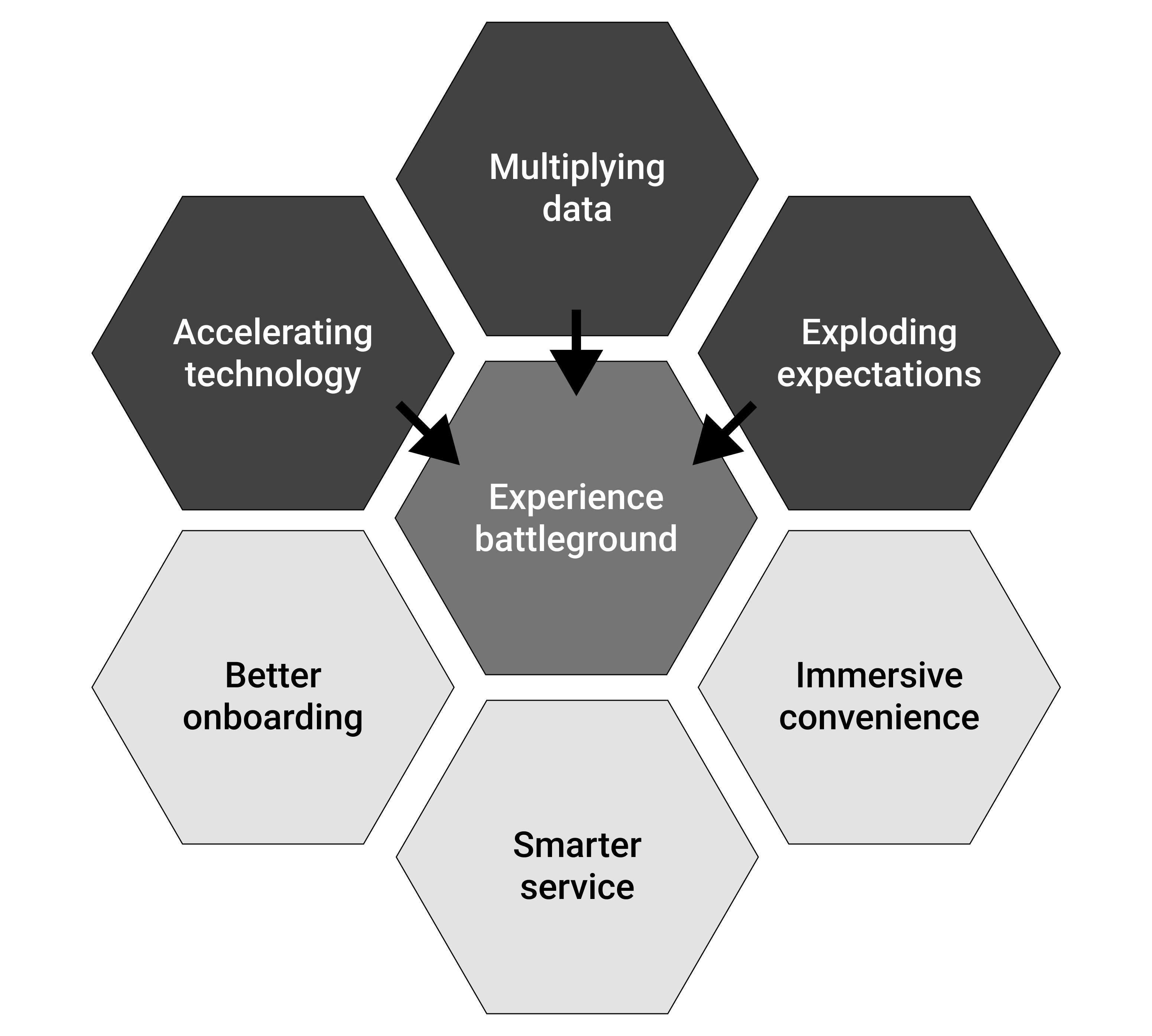 Our client HSBC tasked us with redesigning their public website, specifically with the aim to make the site more valuable to customers by creating an engaging, dynamic experience.
The North Star vision was to create a platform that curates solutions and inspiration to help customers achieve a lifetime of prosperity goals.
It was planned to be a three-year project, and we began by focusing on user journeys tied to HSBC Premier banking accounts.
Competitor benchmark
& UX review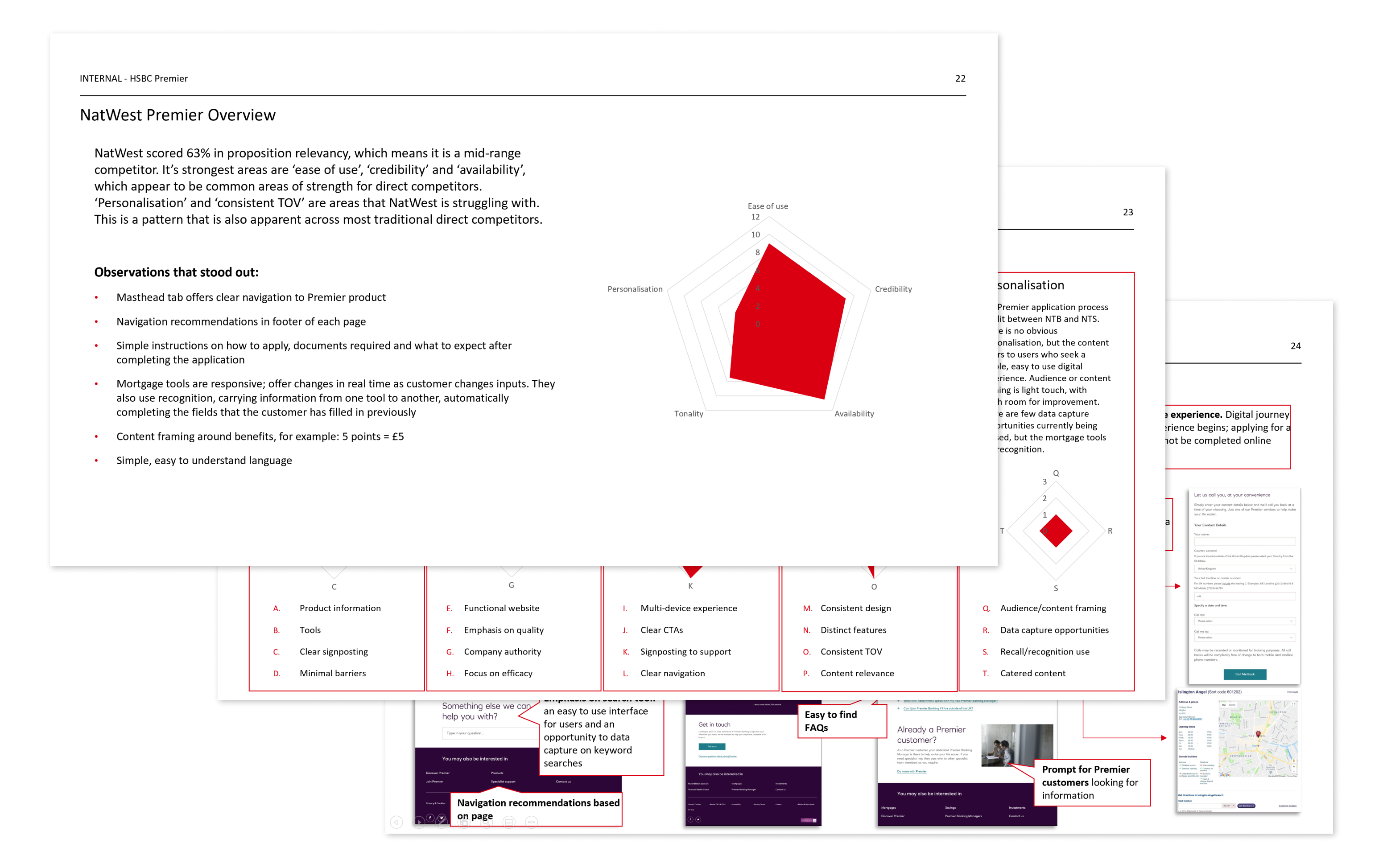 Competitor benchmark
To better understand what 'good' looks like in the market, we pulled best-in-class examples from immediate competitors and other providers to shape recommendations and guidelines for the Premier customer experience.
We assessed 18 competitors against five experience principles, of which the first three matched HSBC Premier principles (shown in bold below).
Ease of use. Remove effort with simplified processes and digital solutions.

Credibility. Build credibility through trusted insight and opinions.

Availability. Deliver anywhere - serve customers wherever the future takes them.

Tonality. Provide a distinct and consistent brand expression.

Personalisation. Use data in smart ways to create relevant experiences.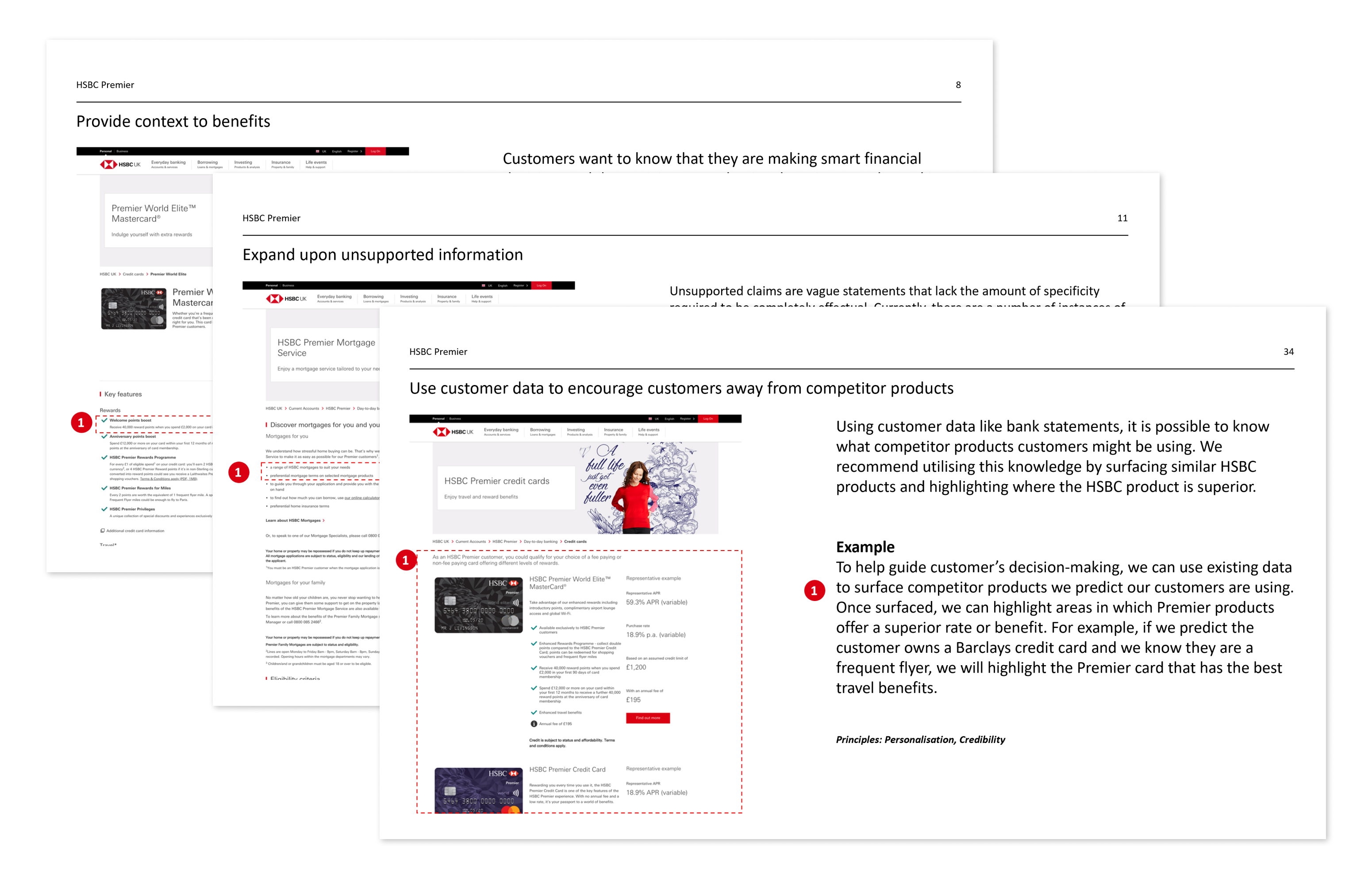 UX review
Keeping the competitor benchmark in mind, we reviewed the existing experience for HSBC Premier and came away with 500+ pieces of advice based on the following experience principles:
Ease of use

Consistency

Tone of voice

Personalisation

Credibility

Availability

Accessibility
To make the advice more actionable (and less overwhelming), we distilled our findings into seven themes and further organised the opportunities into quick wins, longer-term opportunities and blue-sky ideas.
The seven themes we uncovered were...
Reframing content. Ensure content (copy, imagery, icons) is easy to understand, relatable and helpful.

Access to supporting content. Provide access to further information at appropriate points in the customer journey (e.g. hyperlinks, CTAs).

Utilising historical customer data. Tailor content based on existing data about the customers' known behaviours.

Surfacing the Premier proposition. Highlight what makes Premier unique at all opportunities.

Refining internal navigation. Ensure that the navigation is elegant and intuitive as a Premier customer would expect.

Refining the UI design. Utilise existing design principles.

Introducing new tools. Enhance the role of tools throughout Premier.
Filling gaps in user journeys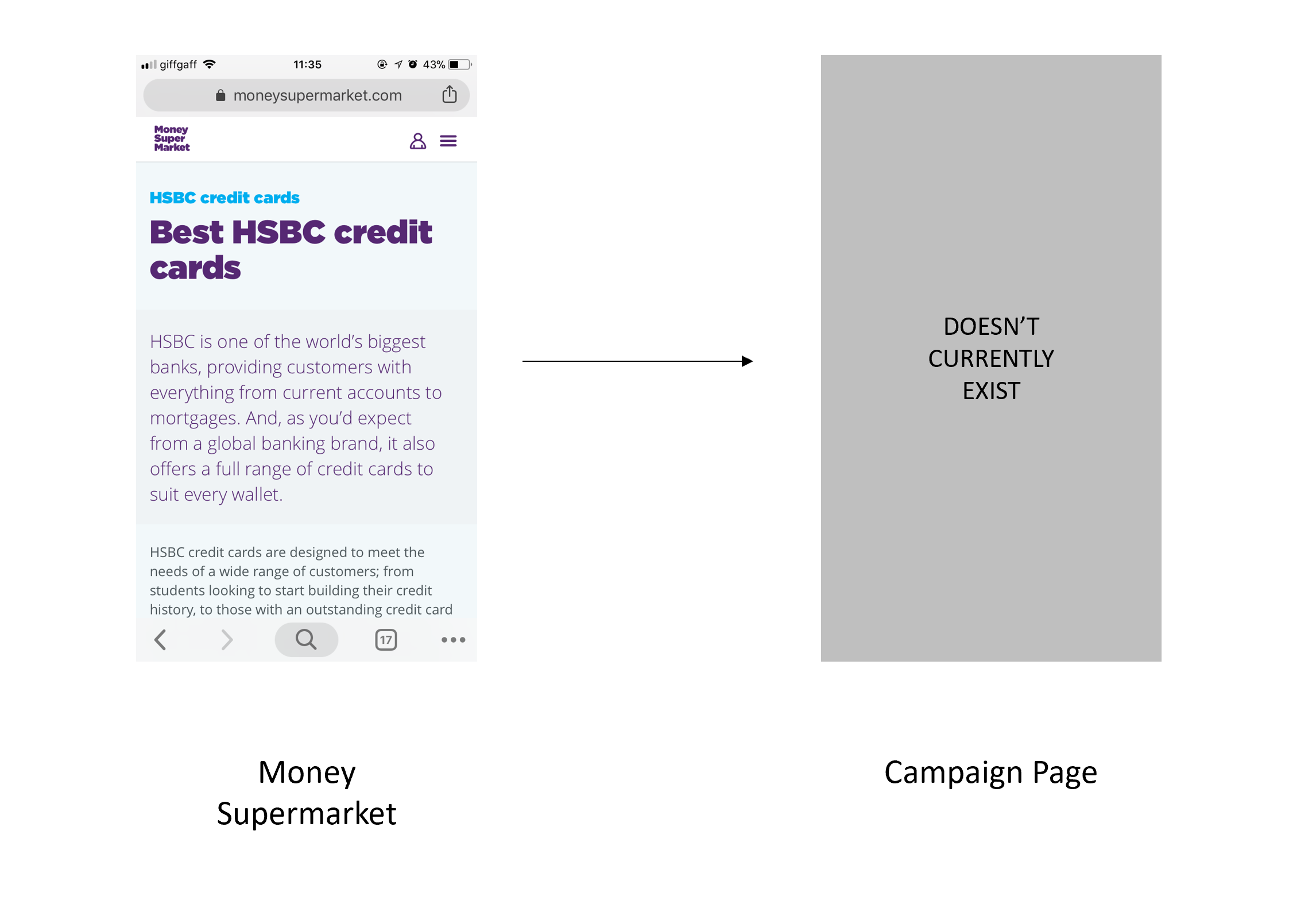 Existing journey
One of the quick-win opportunities we found was to create a special 'campaign' landing page for users to access via aggregator sites.

Wireframes
We created two versions the user might see: one with personalisation (where cookies are allowed) and one 'generic' version without personalisation.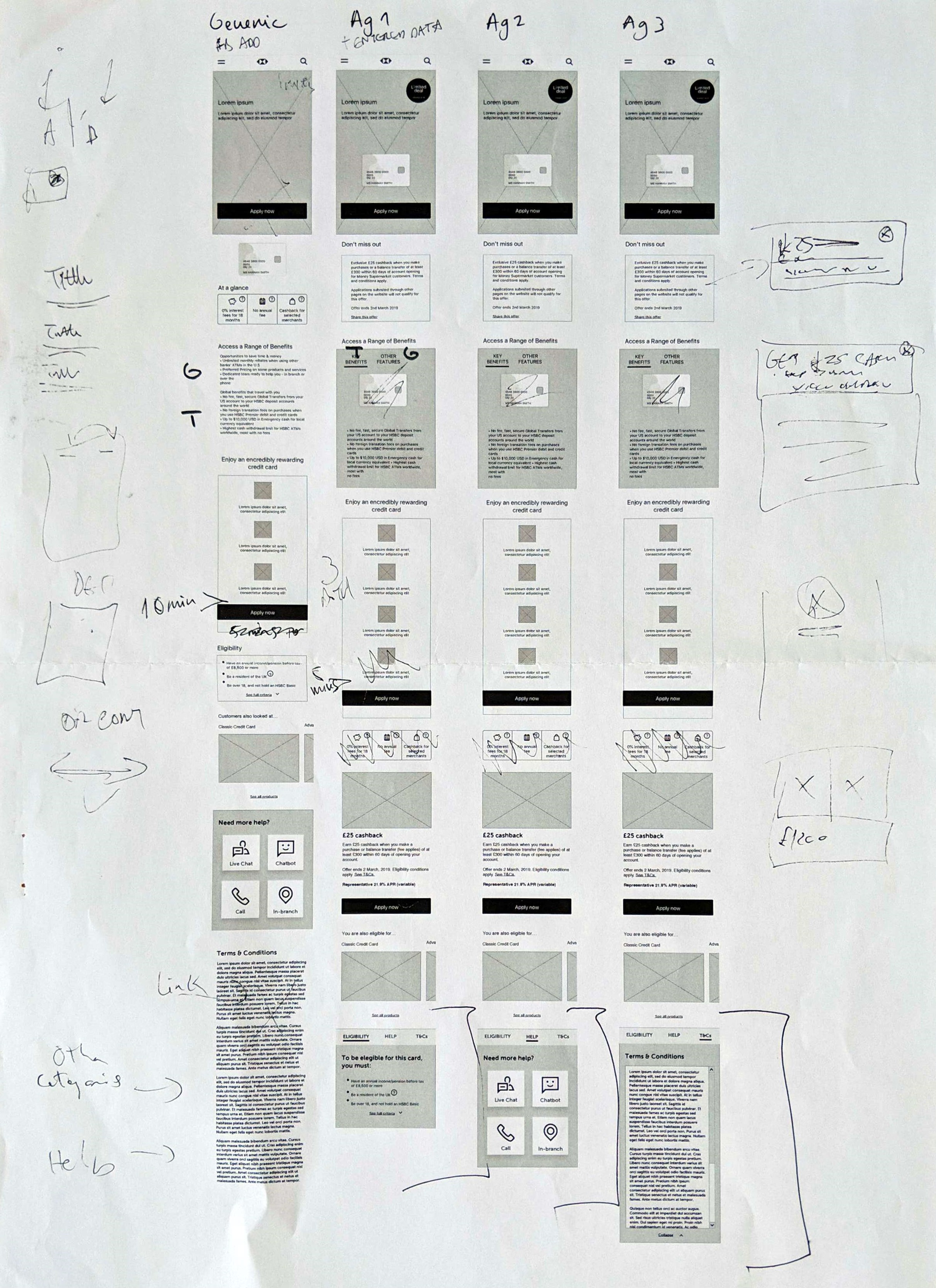 Thank you for reading!
To hear more about the project and the thinking behind my work, feel free to reach me at jsavage.ux[at]gmail.com.