Creating a PR activation landing page to capture traffic before launch
Celebrating the past and drumming up excitement for the future
How might we design a page to capture traffic before a campaign page is live, without disrupting user journeys to the campaign page once it is live?
Autumn 2019, Samsung Europe launched a Galaxy S10 into the stratosphere for a PR activation called SpaceSelfie. The event was a celebration of both Samsung's 50th anniversary and the 50th anniversary of the moon landing.
Users were encouraged to submit their selfies to be displayed on the smartphone while in space.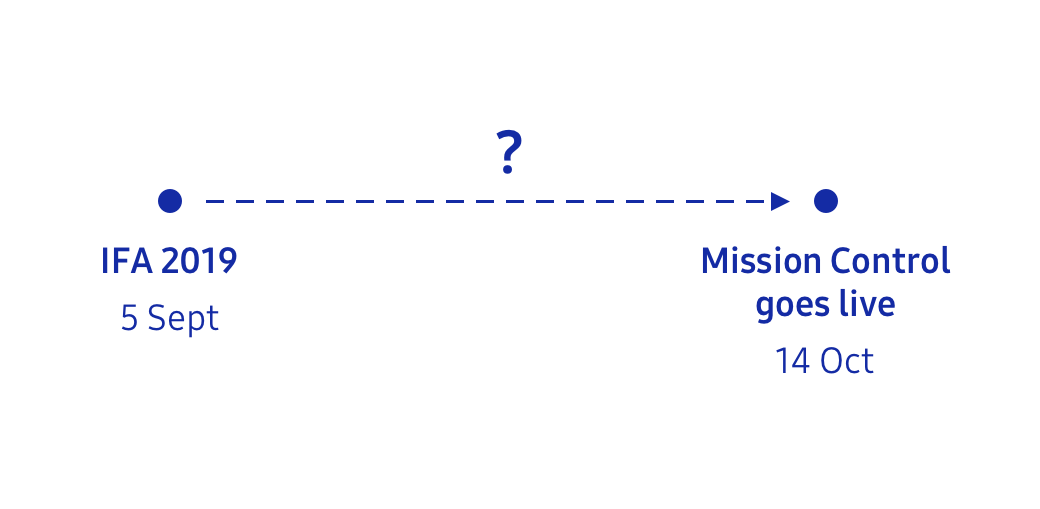 The challenge
Samsung Europe CMO and VP Benjamin Braun delivered a press conference at IFA 2019 that focused on Samsung's 50 years of innovation. One of the purposes of the press conference was to build excitement around the then-unannounced SpaceSelfie event. The press conference was predicted to garner a large amount of traffic that Samsung wanted to capture.
However, Mission Control (now a dead link), the online hub for SpaceSelfie designed and executed by BBH London, wasn't due to be live until a month after the press conference. Additionally, people were likely to be searching for content related to Samsung's 50th anniversary, since that was the topic of the press conference.
The goal
Because people were expected to search for content related to Samsung's 50th anniversary off the back of the press conference, and because Samsung wanted to tease SpaceSelfie before it was announced, it was determined a page celebrating both Samsung's past and its future needed to be created.
It was also important that Mission Control take centre-stage once it was live, meaning the interim page created should not disrupt users' journeys to Mission Control.
This is where my team came in.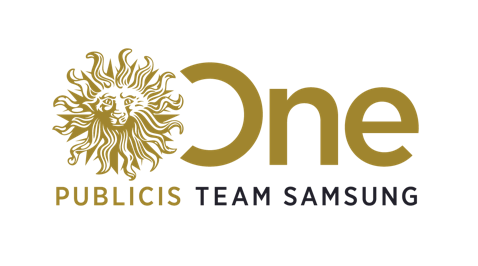 The team
One Publicis Team Samsung (OPTS) combines talent from across Publicis Groupe agencies to support Samsung, one of Publicis Groupe's largest clients.
I joined the team as the Lead UX Designer early 2019.


The process
The plan was for our page to have four states, updating alongside the SpaceSelfie project timeline:
Tease - before Mission Control goes live

Pre-launch - after Mission Control goes live

Launch - when the balloon is launched and in orbit

Sustain - after the event has ended
Each state had different roles to fill, but each state also needed to look consistent with one another and be easy for Samsung's dev team to build quickly.
We were asked to design the Tease state first, with the understanding that it would be the base for all following states.
Based on the briefing, I decided the best way forward was for the Tease wireframe to have four sections:
catchy, inspirational intro

why we're celebrating

what we're celebrating

how we're celebrating
The result
To ensure our page didn't disrupt the user's journey to Mission Control, we heroed a CTA to Mission Control from the Pre-launch stage and onward. We also ensured the content we feature wouldn't be a duplication of that on Mission Control.
The client liked the flow of the page and approved the wireframe to be handed off to the visual designer. However, as preparations for SpaceSelfie progressed, the client amended the brief and requested our page act more as a kind of hub for SpaceSelfie's supplementary content. This is reflected in the final wireframes below.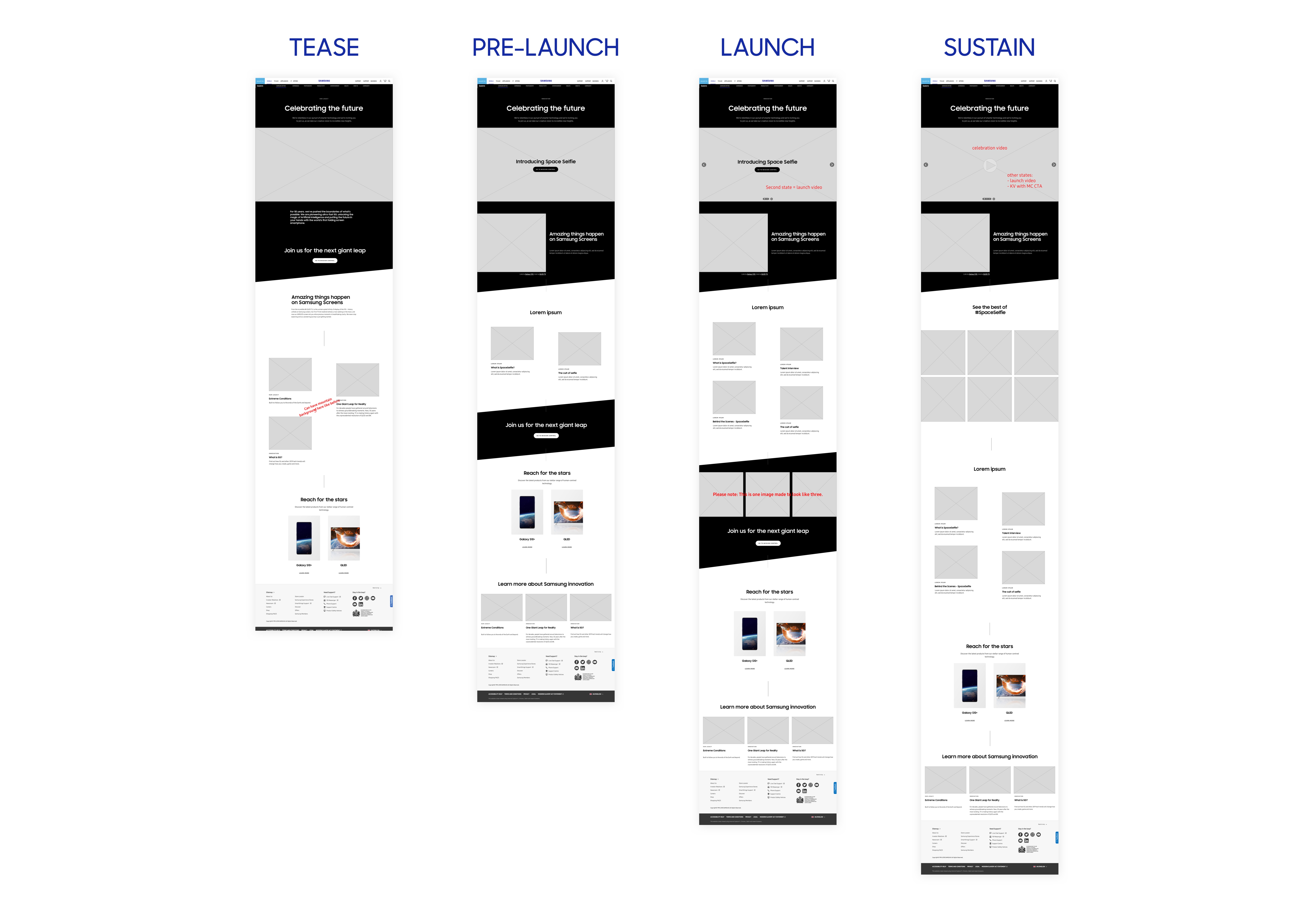 What I've learned working with Samsung
One client, multiple markets. Many of our projects were to be implemented across several European markets, each with their own restrictions. This was an important exercise for me in terms of problem solving and balancing the needs of each market in one central design.

If it ain't broke, fix it anyway. Even though my wireframe handoffs to the designer always went smoothly, during a quieter moment I asked the designer if there was anything I could change in the way I created my wireframes to make things easier on his end. Lo and behold, he showed me a trick with creating image placeholders that made both our jobs easier!

Get wireframes as close to final design as possible before handing off.
This was an idea the UX Director shared with me shortly after I joined Digitas, and it stuck with me. Since our designs for Samsung were limited to the component library (complete with specific component dimensions), this idea was especially effective. Matching margins, fonts and image sizes with the component library dimensions at my stage of design eased the workload of the designer, giving him more time to think creatively.

Big businesses love initialisms. B2B, SMB, PZN, USP, PDP — the list goes on!